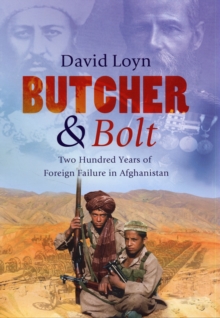 0091921406 / 9780091921408
Usually dispatched within 2 weeks
25 cm xl, 351 p., [16] p. of plates : ill. (chiefly col.)
Afghanistan has been a strategic prize for foreign empires for more than 200 years.
The British, Russians and Americans have all fought across its beautiful and inhospitable terrain, in conflicts variously ruthless, misguided and bloody.
A century ago, the common sneer about how British soldiers treated Afghan tribesmen was that they would 'butcher' them, then 'bolt'.
This violent history is the subject of David Loyn's magisterial book.
He begins with the first British mission exactly 200 years ago - the bizarre, almost medieval progress of Mountstuart Elphinstone, who probed west beyond the known boundaries of British India to find the Amir of Afghanistan clad in an emerald breastplate, wearing the Koh-i-Noor diamond.
That encounter ushered in a history of conflict littered with misunderstandings and broken promises, in which the British, the Russians and later the Americans, constantly under-estimated the ability of the Afghans and the power of the Frontier tribes."Butcher and Bolt" brilliantly brings to life the personalities involved in Afghanistan's relationship with the world, chronicling the misunderstandings and missed opportunities that have so often led to war. Coming right up to date, it draws on David Loyn's unrivalled knoweldge of the Taliban today and the forces that currently prevail in Afghanistan, to provide the definitive analysis of the lessons these conflicts have for the present day.
BIC:
1FCA Afghanistan, 3JH c 1800 to c 1900, 3JJ 20th century, 3JMC c 2000 to c 2010, HBJF1 Middle Eastern history, HBW Military history, JWL War & defence operations