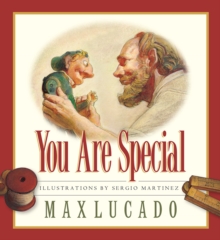 You are special
Part of the Wemmicks series
1859855458 / 9781859855454
15 cm [28] p. : chiefly col. ill.
Reprint. Originally published: Wheaton, Ill.: Crossway, 1997; Oxford: Candle, 2004. Board book.
In this heart-warming tale, Eli helps Punchinello understand how he is - no matter what other Wemmicks may think.
Children will learn a vital lesson - regardless of how the world sees them, God loves each of them just as they are.
BIC: