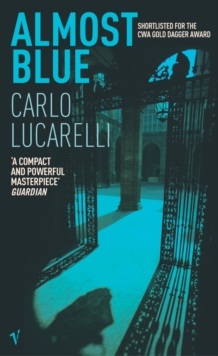 Almost blue
0099459434 / 9780099459439
Reprint. This translation originally published: London: Harvill, 2003.
A serial killer is terrorising the students of Bologna.
Rookie female detective Grazia Negro is determined to solve the case.
Only one eye witness can positively identify the killer ...and he's blind.
Simone spends his days in solitude, listening to Elvis Costello's "Almost Blue" and scanning the radio wave of the city to eavesdrop on other people's lives.
He likes to imagine what people are like - based on the tone and "colour" of their voice - and his acute hearing sets alarm bells ringing upon hearing the voice of the killer.
The perspective alternates between the vulnerable and reclusive Simone and the dark psychotic killer, obsessed with continually 'reincarnating' himself as his latest victim in a frantic bid to escape the torture of his inner demons.
Lucarelli paints his villain in a brilliant and yet terrifying light and you will have to stop yourself from screaming out to Grazia and Simone to warn them of the looming danger.
BIC: