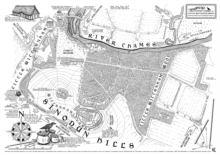 Map of Wittenham Clumps and Little Wittenham Wood showing footpaths and archaeological features. Together with the narrative poem 'The Money Pit - or - The Sinodun Hoard'.
1838438599 / 9781838438593
Usually dispatched within 4 weeks
420 x 297 mm 2 pages, Black and white Illustrated map with poem printed on reverse.