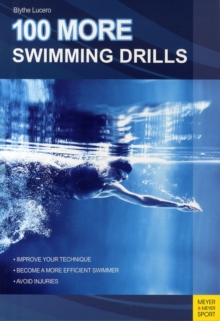 100 more swimming drills
1782550011 / 9781782550013
24 cm 283 pages : illustrations (black and white, and colour)
To swim better, we have to swim more efficiently. While good technique is the foundation of efficient swimming, it is difficult to achieve by simply swimming lap after lap.
Ongoing stroke problems leave many people feeling unrewarded.
Therefore, swimming drills are a fundamental and ongoing element of practice at all levels of the sport.
Each drill is explained step by step. Drill Feedback Charts are included to help swimmers identify problems and make modifications.
Underwater and surface photographs give swimmers optimal images to emulate as they practice. 100 More Swimming Drills is an excellent resource for coaches and swimmers at any level in the quest for better swimming. 100 More Swimming Drills follows the successful Strength Training for Faster Swimming published in 2011, the three book series Technique Swim Workouts, The 100 Best Swimming Drills published in 2007, and Masters Swimming - A Manual published in 2006.
BIC: