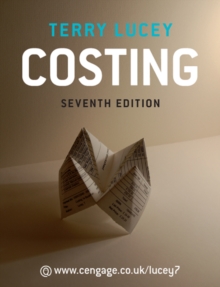 Costing (7th ed)
1844809439 / 9781844809431
Usually dispatched within 4 weeks
Professional & Vocational Learn More
Undergraduate
Previous ed.: New York: Continuum, 2002.
Costing gives a thorough understanding of the theory and practice of cost and management accounting.
It is particularly suitable for its wide and systematic coverage of the professional cost accounting syllabuses, but is also suitable for introductory degree and diploma courses in business, accounting and finance. The first part of Costing gives detailed coverage of the objectives, principles, techniques and methods of cost accounting relating to the analysis and gathering of costs and cost ascertainment.
The second part focuses on the use of cost information for planning, control and decision-making.
At each stage, concepts are illustrated by practical examples and placed into context so that the reader is aware of the importance and relationships of the various aspects of costing.
Fundamental management accounting topics such as budgetary control, standard costing and marginal costing are also thoroughly explained.
BIC: