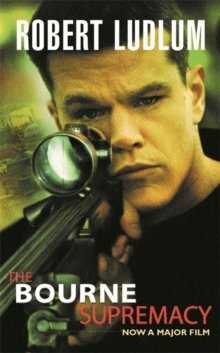 The Bourne supremacy
0752863886 / 9780752863887
Reprint. Film tie-in. Originally published: New York: Random House; London: Grafton, 1986.
THE BOURNE IDENTITY was a major Hollywood movie starring Matt Damon and THE BOURNE SUPREMACY is sure to be equally successful Huge media attention guaranteed for the release of the film During his thirty-year career Ludlum sold 220 million copies in 40 countries in 32 different languages His recent books have been SUNDAY TIMES bestsellers and GUARDIAN fastsellers in paperback Ludlum always receives first-rate reviews: 'A writer who bests the bestsellers' DAILY TELEGRAPH 'A page-turner of non-stop action that should leave his fans begging for more' NEW YORK POST 'Huge in scope ... Ludlum spins
Washington, Hong Kong and Peking - terror sweeps the globe.
The Vice- Premier of the People's Republic has been brutally murdered by a legendary assassin and everyone is asking the same fearful questions: Why has Bourne come back?
Who is paying him? Who is next on his death list? But US officials know the shocking truth: there is no Jason Bourne.
There never was. But someone has resurrected the name, and if he is not stopped, the world will pay a devastating price.
Jason Bourne must live again. He must utilise his murderous skills. But this time the will to survive is not enough. This time Bourne must reign supreme...
BIC:
Title Unavailable: Out of Print
Other Formats