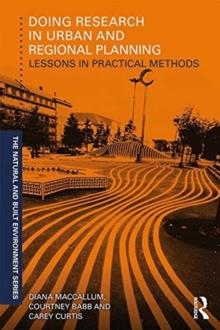 Doing research in urban and regional planning : lessons in practical methods
0415735572 / 9780415735575
256 pages : illustrations (colour).
Doing Research in Urban and Regional Planning provides a basic introduction to methodology and methods in planning research.
It brings together the methods most commonly used in planning, explaining their key applications and basic protocols.
It addresses the unique needs of planners by dealing with concerns which cut across the social, economic, and physical sciences, showing readers how to mobilise fresh combinations of methods, theoretical frameworks and techniques to address the complex needs of urban and regional development.
It includes illustrative case studies throughout to help planning students see how methods can be operationalised on the ground and connect research with urban and regional planning practice to build foundations for action. The book pays attention to contemporary trends - such as the growth in information technology, and general shifts in urban and environmental governance - that are affecting the practicalities and protocols of doing planning research.
Doing Research in Urban and Regional Planning also encourages ethical reflection and discusses the ethical issues specific to planning research. Each chapter begins with a chapter outline with learning outcomes and concludes with take-home messages and suggested further readings.
It also suggests a range of learning activities and discussion points for each method.
BIC:
JFSG Urban communities, LNKW Planning law, RPC Urban & municipal planning