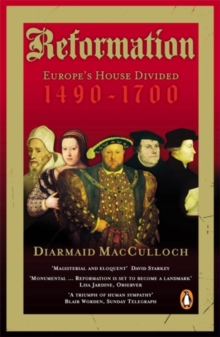 Reformation : Europe's house divided, 1490-1700
0140285342 / 9780140285345
20 cm xxvii, 831 p., [24] p. of plates : ill.
Reprint. Originally published: London: Allen Lane, 2003.
The Reformation was the seismic event in European history over the past 1000 years, and one which tore the medieval world apart.
Not just European religion, but thought, culture, society, state systems, personal relations - everything - was turned upside down.
Just about everything which followed in European history can be traced back in some way to the Reformation and the Counter-Reformation which it provoked.
The Reformation is where the modern world painfully and dramatically began, and MacCulloch's great history of it is recognised as the best modern account.
BIC: