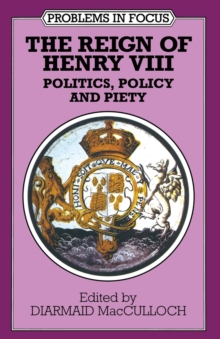 The reign of Henry VIII : politics, policy and piety
0333578570 / 9780333578575
Stock expected by 29/11/2019
This collection of essays by leading scholars and researchers in early Tudor studies provides an up-to-date discussion of the politics, policy and piety of Henry VIII's reign.
It explores such areas as the reform of central and local government, foreign policy, relations between leading politicians, life at Court, Henry's first divorce and the break with Rome, literature and the government's exploitation of it, and the growth of evangelical religion in Henry's England.
Particular consideration is given to the controversies which have arisen about the reign among modern historians, and there is an effort to assess the personality of Henry himself.
BIC:
1DBK United Kingdom, Great Britain, 3JB c 1500 to c 1600, HBJD1 British & Irish history, HBLC Early history: c 500 to c 1450/1500, HBLH Early modern history: c 1450/1500 to c 1700