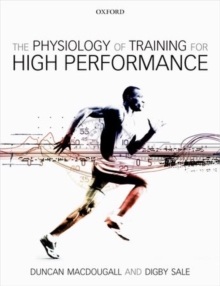 The physiology of training for high performance
0199650640 / 9780199650644
Professional & Vocational Learn More
Tertiary Education (US: College)
Success for an athlete depends on their ability to perform at their best when it matters most.
Performance depends on the athlete's body having acquired the most beneficial adaptations for their sport.
But how can an athlete or coach be sure that training results in the desired adaptations?
Training can be defined as the stimulation of biological adaptations that result in an improvement in performance in a given task.
Athletes and coaches have learned, mostly through trial and error, how to exploit the ability of the body to adapt in response to potentially harmful stimuli.
The challenge lies in applying the right stimuli at the right intensity for the right amount of time: muscles respond to working more forcefully than normal by becoming bigger, stronger, and more resistant todamage, but over-training can lead to injury.
This book provides the information necessary to decide on the most effective way to improve performance, underpinned by an understanding of the mechanisms behind adaptation and thoroughly supported by scientific research. The Physiology of Training for High Performance begins by introducing the reader to the concept and physiological bases of adaptation.
The authors then delve into training for different outcomes, for example, improved endurance or speed, and relate the discussion to various sports and events.
Finally, the authors summarize the latest research surrounding additional factors that affect an athlete's performance and potential, including tapering, nutrition, and body composition.
Online Resource CentreThe Online Resource Centre to accompany The Physiology of Training for High Performance features:For students:BL Multiple choice questions to check understanding and aid revisionBL Links to sources of further informationFor registered adopters of the book:BL Figures from the book, available for download
BIC: