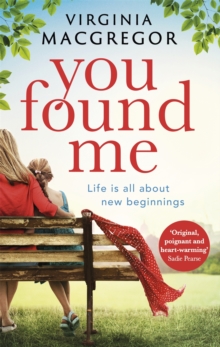 You found me
0751565261 / 9780751565263
The BRAND NEW novel'Stayed with me long after I'd finished reading.'Mike Gayle, BESTSELLING author of The Man I Think I Know'Loved this - a compassionate and very timely book about how we treat each other.'Eva Woods, BESTSELLING author of How to be Happy'Touching and poignant, I really enjoyed this and found it hard to put down.' Cathy Hopkins, BESTSELLING author of The Kicking the Bucket List'Original, poignant and heart-warming' Sadie Pearse, author of This Child of OursPerfect for fans of Julie Cohen, Harriet Evans and Rowan Coleman. ********************************************Life is all about new beginningsEarly one summer morning Isabel and her eleven-year-old daughter River walk across Regent's Park.
They come across a rain-soaked man sitting alone on a bench and ask him if he's okay.
But he doesn't know. In fact he doesn't know the answer to any of their questions - not even his own name. Urged on by her daughter Isabel takes the man to the hospital she works at, hoping that will be the end of it.
But when the tests show there's nothing physically wrong with him, and yet he still can't remember who he is, she realises she can't walk away.
Isabel made a promise to River that they would help this man, but with no way to identify him Isabel begins to worry about what he past secrets his memory loss might be hiding. Can they trust him? Why do readers LOVE Virginia Macgregor?'I defy you not to fall in love . . . a future classic' Clare Mackintosh'Will delight you but break your heart several times over' Sun'I couldn't put this insightful, compelling novel down' Woman & Home'Might restore your faith in human nature' Bella'Deeply satisfying' Sarra Manning, Red 'Sharp, funny and hugely moving . . . a must read' Fabulous'Warm, wise and insightful' Good Housekeeping 'Beautifully written and thought-provoking, this is a brilliant read' Sun'This wonderful story will tear at your heart.' My Weekly 'Brilliant!' Heat 'A poignant and very clever read' Company'A truly heart-warming story of family, love and loyalty' Daily Express'An astonishingly brilliant novel' Australian Women's Weekly'A touching look at the meaning of motherhood' Good Housekeeping 'A challenging and moving story about the power of love' Image'Absolutely delightful . . . Everyone should read this book!' Novelicious'Written with plenty of heart' Sunday Mirror'An emotional and powerful family drama' Heat'So engaging and powerful' Press Association 'Layered and lyrical' Irish Independent
BIC: