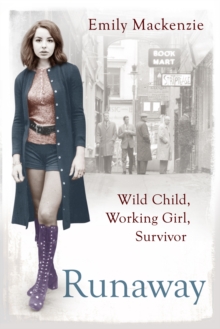 Runaway : wild child, working girl, survivor
1471115259 / 9781471115257
Stock expected by 14/12/2019
Beaten by her mother and whipped by her stepfather, Emily eventually finds her way into the care system at the age of twelve, and has an abortion after being gang-raped at thirteen.
Continuously abused in a sequence of homes, she runs away at sixteen, becomes a prostitute in Soho, and convinces herself she is being punished for killing her baby.
But it was never meant to be like that. Adopted at birth in 1956 by a middle-class family, Emily shared a golden childhood with her adopted sister Amy, attending private schools, and enjoying singing and dancing lessons.
Things soon changed when Emily's jealous mother came to regard her as a rival.
A bored and restless woman, she beat Emily for the first time when she was seven years old and from then on seemed to become addicted to inflicting pain on her daughter.
Despite Emily's father's attempts to protect her, the parental rows grew more malicious, until the mother moved out and remarried a narcissistic widower with alcohol problems and a vicious, bullying temper.
The abuse intensified until Emily was placed into voluntary care. And so began a toxic spiral of remand homes, psychiatric hospitals, and sleeping rough.
It wasn't long before Emily became a teenage 'working girl', where she was paid to engage in bizarre sadomasochistic acts for perverted clients, including a senior judge and a policeman.
It was only when she was almost murdered that she turned her life around.
Set principally between 1966 and 1972, Runawaycaptures the sleazy Soho of the period, and the frightening conditions in which many children were kept in care.
BIC:
BGA Autobiography: general, BTP True stories of heroism, endurance & survival, JFFE1 Child abuse