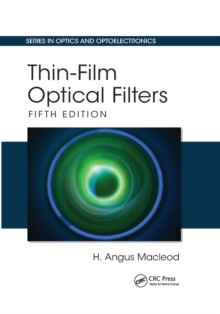 Thin-film optical filters (Fifth edition)
0367781603 / 9780367781606
26 cm 664 pages : illustrations
Praise for prior editions"an excellent treatise of thin film coatings, explaining how to produce all sorts of different filters selected according to the function they are required to play... an indispensable text for every filter manufacturer and user and an excellent guide for students." Contemporary Physics"essential reading for all those involved in the design, manufacture, and application of optical coatings" Materials World"a must-have addition to the library of any optical thin-film theorist or practitioner" SVC NewsThis book is quite simply the Bible for the field of optical thin films.
It gives the most complete introduction to thin film optical coatings addressed to manufacturers and users alike.
This fifth edition offers a complete update on current design, manufacture, performance, and applications.
New topics include absorbers and coherent perfect absorbers, photonic crystals, and metamaterials for optical coating.
The author has also made substantial additions on scattering, composite materials, wire grid polarizers, laser damage, and applications. H. Angus Macleod is President of Thin Film Center Inc., in Tucson, Arizona, and Professor Emeritus of Optical Sciences Center at the University of Arizona.
His professional honors include a Gold Medal from SPIE, the Esther Hoffman Beller Medal from the Optical Society of America, and the Nathaniel H.
Sugerman Memorial Award from the Society of Vacuum Coaters.
BIC: