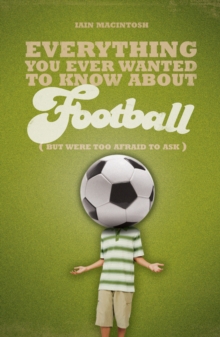 Everything you ever wanted to know about football (but were too afraid to ask)
1408114968 / 9781408114964
Stock expected by 17/04/2020
"Everything You Ever Wanted to Know About Football But Were too Afraid to Ask" explains the often-baffling laws of modern sport in a light-hearted and easy-to-understand way to the new fan/spectator or the 'sport widow'.
This is a witty, whimsical guide to the rules, tactics, competitions and etiquette of modern football, as if written by a very patient but understanding friend.
Football writer Iain Macintosh explains how football works, why is it so popular and what the hell that offside rule is all about.
He guides the novice through the basic rules of the game in a bouncy, easy-to-fathom style, but also explains the basic tactical ideas that make the sport so compelling.
Including a starter's history of the game, advice on choosing a team and crucial safety tips on how not to behave while watching football in a public place, it's all you ever needed to know about football, but were too afraid of being kicked senseless or utterly humiliated to ask.
BIC: