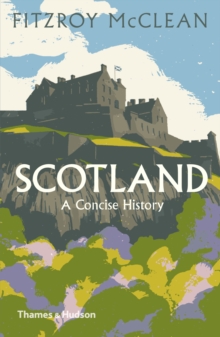 Scotland : a concise history (Fifth edition)
0500294720 / 9780500294727
20 cm 176 pages, 24 unnumbered pages of plates : illustrations (black and white), maps (black and white)
`The Scots', said a censorious English member of Parliament in 1607, `have not suffered above two kings to die in their beds these two hundred years.' He may have exaggerated, but undeniably Scotland has had a rough and bloodstained history.
It is a complex one, too, but the late Fitzroy Maclean and Magnus Linklater disentangle the threads, and enliven their brisk account with both wit and scholarship.
Pictures from authentic contemporary sources illuminate the story - its romantic figures and bloody battles, its politics and religion - and provide a record of Scotland's art, craftsmanship and intellectual life. In this revised edition of this classic work, Magnus Linklater brings the story of Scotland right up to date, examining how the Scots identity is faring since the momentous Scottish referendum of 2014, and discussing the fate of the United Kingdom.
BIC: