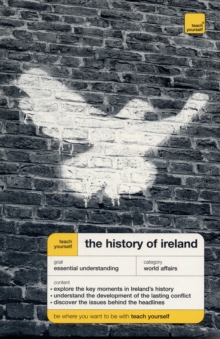 The history of Ireland (New ed)
0340942428 / 9780340942420
Teach Yourself The History of Ireland New Edition is a comprehensive guide to a fascinating history.
Taking you from ancient Ireland up to present day conflicts, this book will give you an understanding of the background to events that have dominated the headlines in recent years.
Consider the impact of recent political events on society and culture and discover the key figures who have characterised this dramatic history, in a book that will keep you hooked from beginning to end.
This new edition has been fully updated to address the most recent developments in Ireland, including the murder of Robert McCartney and Denis Donaldson, the IRA's formal order to end its 30-year armed campaign and the subsequent decommissioning of arms, and the many twists and turns of the peace process.
BIC:
Title Unavailable: Out of Print