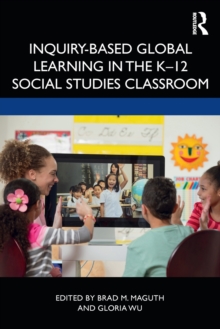 Inquiry-based global learning in the K-12 social studies classroom
0367354543 / 9780367354541
Usually dispatched within 4 weeks
280 pages : illustrations (black and white)
This book, edited by experienced scholars in the field, brings together a diverse array of educators to showcase lessons, activities, and instructional strategies that advance inquiry-oriented global learning.
Directly aligned to the College, Career, and Civic Life (C3) Framework for Social Studies State Standard, this work highlights ways in which global learning can seamlessly be interwoven into the disciplines of history, economics, geography, civics, psychology, sociology, and anthropology.
Recently adopted by the National Council for the Social Studies, the nation's largest professional organization of history and social studies teachers, the C3 Framework prioritizes inquiry-oriented learning experiences across the social studies disciplines in order to advance critical thinking, problem solving, and participatory skills for engaged citizenship.
BIC:
JNMT Teacher training, JNU Teaching of a specific subject, JNUM Teachers' classroom resources & material