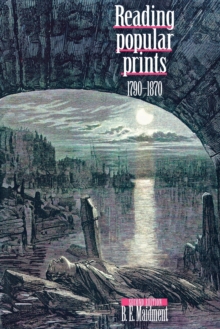 Reading popular prints 1790-1870
0719033713 / 9780719033711
Stock expected by 14/12/2019
postgraduate Learn More
research & professional
undergraduate
Reprint. Originally published: 1996.
The book offers undergraduates, research students and interested readers access to the critical issues and methodolgical complexities raised by the interpretation of popular graphic images from the 18th and 19th centuries.
Brian Maidment reads popular prints as complex commodities, through which one can understand historical events and social change.
The events covered in the book include a fire in a corn mill in 1791, the rise of the "educated dustman" as a symbol of proletarian cultural development in the 1820s and 30s, and working men returning home to their families in the 1850s.
In each chapter a wide range of images is assembled - metal and wood engravings, lithographs, woodcuts, etchings, water-colours and drawings - to show the different ways that historical events can be represented.
BIC:
1DB British Isles, 3JF c 1700 to c 1800, 3JH c 1800 to c 1900, ACV History of art & design styles: c 1800 to c 1900, AFH Prints & printmaking, HBTB Social & cultural history, JFC Cultural studies