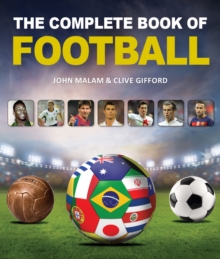 The complete book of football
177085830X / 9781770858305
30 cm 320 pages : illustrations (colour)
The Complete Book of Football captures all of the exciting action, colour and passion of the world's most popular sport, comprehensively telling the story of the game and its greatest exponents.
It is packed with information about clubs and players around the world, statistics galore, and hundreds of fascinating archival images, and exciting colour action photographs.The book includes: * The top leagues, including Premier League, La Liga, Major League Soccer, Serie A, Brasileirao, Argentine Primera and Liga MX, as well as up-and-coming leagues; * The most important world and regional competitions, including World Cup, Olympics, Champions League, UEFA European Championship, Copa del Rey, Confederations Cup, Africa Cup of Nations, Copa Libertadores, Copa America, Asian Cup, Women's World Cup; * Profiles of every FIFA club from Afghanistan to Zimbabwe, complete with club logos and colours; * Profiles of national teams, including the star-making clubs like Germany, Argentina, Italy, Spain, Brazil, and Chile; * The Premier League clubs, such as Manchester United, Manchester City, Arsenal, Chelsea, and more; * Profiles of soccer's greatest players, past, present and future, as well as winning, losing and controversial managers; * All of the most important historic and recent results and statistics. The book tells the fascinating story of the game's origins and its circuitous evolution around the world into the game we know and love today.
FIFA and simplified rules are included.The Complete Book of Football has 320 pages packed with hundreds of photographs; league and club profiles; player biographies; facts and statistics; coverage of all of the world's major championships; and much more.
It is essential for all football fans and no library should be without a copy.
Exceptional value, too good to pass up.
BIC: