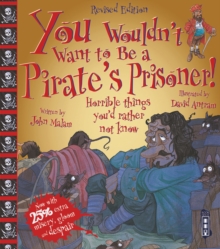 You wouldn't want to be a pirate's prisoner
1909645710 / 9781909645714
24 cm 40 pages : illustrations (colour)
Get ready...as the captain of a Spanish treasure ship sailing in the Spanish Main, you're about to get captured as a pirate's prisoner!
Pirates have many ingenious tortures, and once they have got what they want from you, the best you can hope for is to be marooned on an island.
This title in the popular You Wouldn't Want to Be series features full-colour illustrations which combine humour and accurate technical detail.
This extended edition features brand new extra content including a timeline, fun facts a list of 'top' characters and a map.
BIC:
YNH History & the past: general interest (Children's / Teenage)