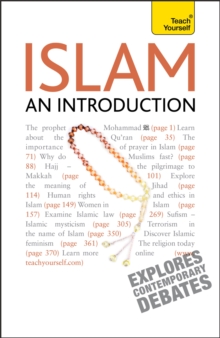 1444103474 / 9781444103472
20 cm viii, 392 p. : ill.
Do you want to learn more about this fascinating and complex world religion?
Islam - an Introduction is a complete guide to the history, beliefs, and practicalities of this often misunderstood faith.
Fully updated, it also addresses the key questions currently surrounding the religion, including women's rights, terrorism and fundamentalism, to give you a better understanding of Islam in the world today.
NOT GOT MUCH TIME?One, five and ten-minute introductions to key principles to get you started. AUTHOR INSIGHTSLots of instant help with common problems and quick tips for success, based on the author's many years of experience. TEST YOURSELFTests in the book and online to keep track of your progress. EXTEND YOUR KNOWLEDGEExtra online articles at www.teachyourself.com to give you a richer understanding of psychology. FIVE THINGS TO REMEMBERQuick refreshers to help you remember the key facts. TRY THISInnovative exercises illustrate what you've learnt and how to use it.
BIC:
HRHP Islamic life & practice, HRLM Religious life & practice