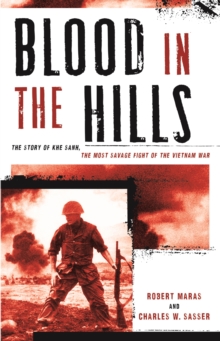 Blood in the Hills : The Story of Khe Sanh, the Most Savage Fight of the Vietnam War
1493049968 / 9781493049967
Stock expected by 13/06/2020
146 x 225 mm, 408 grams 304 pages, 25 Halftones, black and white
A soldier's eye view of Vietnam's fiercest close-quarters battle upon its 50th anniversaryKhe Sanh's Hill Fights of 1967-as experienced by co-author Bobby Maras and told in this hour-by-hour, day-by-day account-were carnage on the ground, much of it hand-to-hand fighting in the dark.
Thanks to the brave Marines of the 9th and 3rd, Khe Sanh survived the first concentrated attack by the North Vietnamese to invade the South.
After the Hill Fights, American forces pulled back and held out against constant enemy shelling and frequent attacks until the siege was broken.
Combining Maras' personal experiences with the war's bigger picture, Blood in the Hills honors the heroic actions of our soldiers and shows how Khe Sanh was microcosm of the entire Vietnam War.
BIC:
1FMV Vietnam, 3JJPK c 1960 to c 1970, HBJF Asian history, HBLW3 Postwar 20th century history, from c 1945 to c 2000, HBWS2 Vietnam War, JWLF Battles & campaigns