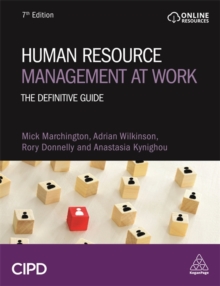 Human resource management at work : the definitive guide (Seventh edition)
1789664861 / 9781789664867
25 cm xxx, 532 pages : illustrations (black and white)
Professional & Vocational Learn More
Tertiary Education (US: College)
"Online resources"--Front cover At foot of title: CIPD Previous edition: London: Chartered Institute of Personnel and Development, 2016.
A leading textbook in its field, Human Resource Management at Work is a comprehensive guide to the theory and practice of HRM.
Aligned to the CIPD Level 7 qualification yet also relevant on non-CIPD accredited HR masters courses, this book covers everything students need to excel in their academic studies and will ensure that they can hit the ground running in a practitioner role after university. Divided into four key parts, the first part of the book covers HRM strategy and the global context, the forces shaping HRM at work and international and comparative HRM.
Part Two discusses the role of HR professionals and line managers in the workplace, and how the responsibilities for delivering effective HR vary in a changing world of work, Part Three has expert coverage of the key areas of HR including resourcing and talent management, learning and development (L&D), reward and employment relations.
The final part examines the impact that HRM can have on business performance and also outlines the key knowledge and skills required to carry out a business research project.
Fully updated through, this seventh edition now has new coverage of diversity and inclusion (D&I), workplace analytics, ethics, wellbeing and precarious work as well as additional coverage of the alignment of HRM with organisational strategy and the integration of different components of HRM.
Human Resource Management at Work includes new global case studies, reflective practice activities to encourage critical thinking, exercises to help the consolidation of learning and 'explore further' boxes to encourage wider reading. Online supporting resources include an instructor's manual and lecture slides.
BIC: