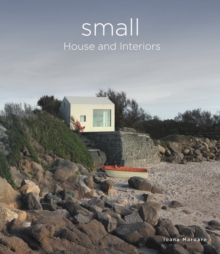 Small: House And Interiors
8499367089 / 9788499367088
225 x 260 mm 336 pages, 300 clr illus
The most effective and appealing breakthrough in house-building within the past five years has been to make the most of every centimetre of space.
Budgets aren't what they used to be, houses are smaller and lifestyles are changing rapidly.
Clients today want to create a home that is easy to maintain, environmentally responsible and inexpensive to operate.
Ranging from glass cabins to copper-clad tree houses, this book features an international collection of projects by thirty of the most international, important architects and interior designers.
Discover how to use flexible space and make the most of a narrow lot, how to use every square metre of living space, while also responding to rising ecological concerns and skyrocketing energy bills.
BIC:
AMC Architectural structure & design, AMK Residential buildings, domestic buildings