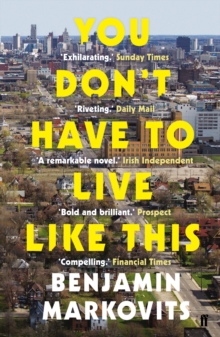 You don't have to live like this : a novel
0571313426 / 9780571313426
Reprint. Originally published: New York: HarperCollins, 2015.
A SUNDAY TIMES TOP 100 NOVEL OF THE TWENTY-FIRST CENTURYTen years out of Yale and drifting through a teaching career, Greg Marnier heads for his college reunion, jetlagged and drunk.
There he bumps into an old friend, Robert James, now wealthy and influential from dotcom success.
He has a plan: to buy up several abandoned neighbourhoods in Detroit and build a new America from their ruins.
For a small investment, Greg can turn himself into a twentieth-century pioneer.
But for every urban misfit who's come for a fresh start, there's a native Detroiter whose patch is being swallowed up by these new young colonials.
Soon, the realities of life on America's urban frontier become all too apparent . . .
BIC: