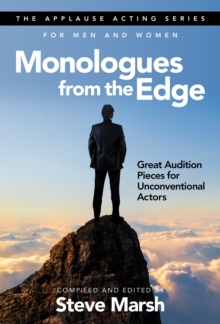 Monologues from the edge : great audition pieces for unconventional actors
1493053183 / 9781493053186
Usually dispatched within 4 weeks
Starting with an understanding that all actors are by nature unconventional, Monologues from the Edge presents performers with a wide range of monologues featuring characters who stand outside social norms and ideas of acceptability.
Compiled by dramaturg Steve Marsh, this collection includes many contemporary monologues from plays he had the opportunity to review during his time on the nominating committee of the Drama Desk Awards in NYC.
Marsh's sincere theatrical bliss comes from understanding and working with playwrights and their dramatic structures, and his definition of the "edge" and his choice of dramatic works is sure to inspire all actors who endeavor to understand all of the characters and their motivations completely.
BIC: