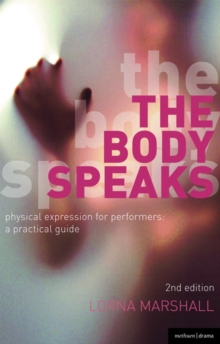 The body speaks (Rev. ed)
1408106825 / 9781408106822
Stock expected by 21/07/2020
General (US: Trade) Learn More
Professional & Vocational
Tertiary Education (US: College)
Previous ed.: London: Methuen, 2001.
'Stimulating and intelligent' Yoshi Oida Seventy percent of everyday conversation is conveyed through body language, twenty percent is the voice and only ten percent is the meaning of the words.
In The Body Speaks, expert RADA trainer Lorna Marshall, shows how to recognise and lose unwanted physical inhibitions that our background, education or family have taught us and presents a fundamental re-thinking of our relationship to the body and its role in performance.
Good performers - be they trapeze artists, Shakespearean actors, Butoh dancers or film stars - are able to fully reach their audience and engage with them because they have learnt to use their bodies to its best effect.
Through a series of practical exercises, Lorna Marshall encourages us to unleash our potential, discover new possibility for the body and express ourselves more clearly.
This new edition has been fully revised to include the latest thinking on the subject and more exercises particularly for performers in TV and film.
BIC: