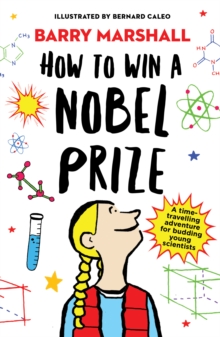 How to win a Nobel Prize
1786075245 / 9781786075246
Stock expected by 26/05/2022
20 cm 184 pages : illustrations (black and white)
A time-travelling adventure with interactive experiments for budding young scientists, by Nobel Prize winning Barry MarshallMary has always wanted to win a Nobel Prize and loves running her own science experiments at home.
One day Mary stumbles on a secret meeting of Nobel Prize winners.
Dr Barry Marshall agrees to travel with her through time to learn the secrets behind some of the most fascinating and important scientific discoveries.
They talk time and space with Albert Einstein, radiation with Marie Curie, DNA with Crick, Watson and Wilkins - and much more. Filled with experiments to try at home and featuring famous Nobel prize-winners:Albert Einstein * Marie Curie * Guglielmo Marconi Francis Crick, James Watson and Maurice Wilkins * Alexander Fleming * Tu Youyou * Subrahmanyan Chandrasekhar * Gertrude Elion * Norman Borlaug * Rita Levi-Montalcini * Jean-Pierre Sauvage, J.
Fraser Stoddart and Bernard Feringa * Barry Marshall and Robin Warren
BIC:
YFC Adventure stories (Children's / Teenage), YNT Science & technology: general interest (Children's / Teenage)