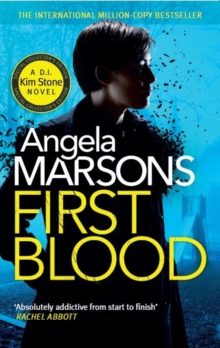 First blood
0751579823 / 9780751579826
Special hardback edition featuring exclusive bonus contentA detective hiding dark secrets, Kim Stone will stop at nothing to protect the innocent. In the darkness of a cold December morning, Detective Kim Stone steps through the doors of Halesowen Police Station. She's about to meet her team for the first time. The victim of her next case is about to meet his killer...
When the body of a young man is found beheaded and staked to the ground in a secluded woodland area of the Clent Hills, Kim and her new squad rush to the crime scene.
Searching the victim's home, Kim finds a little girl's bedroom and a hidden laptop, but where is the child? And why does the man's own sister seem relieved that he's dead? As Kim begins to unearth the shocking truth about the victim, a disturbing resemblance is spotted with the recent murder of a man found beneath the staircase of Redland Hall with multiple stab wounds. Both these men had dark secrets and Kim discovers a link to a women's shelter.
As a child of the care system herself, Kim knows all too well what it means to be vulnerable. Could the shelter be the key to cracking this case?
With the killer about to strike again, Kim is in deep water with a rookie squad. Inexperienced Stacey is showing signs of brilliance but struggling to hold her nerve and, while D.S.
Bryant is reliable and calm, D.S. Dawson is a liability. With his home life in pieces, his volatile behaviour is already fracturing her fragile new team.
Can Kim bring Dawson in line and pull her crew together in time to catch the killer before another life is taken?
This time, one of her own could be in terrible danger . . . Discover where it all began for Kim and her team. An absolutely heart-stopping mystery thriller that will keep you glued to the pages, reading late into the night. Perfect for Kim Stone fans and new readers to the million-copy bestselling series. Read what everyone is saying about First Blood and the Detective Kim Stone series: 'I cannot begin to tell you how god damn good it is.
First Blood is so bloody brilliant and so gripping . . . Totally blown my mind...Without a doubt one of my best reads this year leaving me with a book hangover' Baker's Not So Secret Blog, five stars 'A great introduction to the best crime series on the shelves right now . . . I loved this book from cover to cover . . . A brilliant read which will have people turning the pages at a feverish rate.
This is a second chance for those of us who follow the series to have that first meeting with Stone and the gang, and it's absolutely brilliant' Nigel Adams Bookworm, five stars'Angela Marsons is a keen observer of human nature, and her wide cast of characters are both fascinating and distinct from each other . . . It is immediately clear why her books stand out from the crowd.
Chilling and compelling plots, brilliant characterisation . . . Addictive from start to finish' Rachel Abbott'Superb!!! I love Kim - always have, always will!! . . . Breath-taking, heart-pounding, exciting and thrilling!!! I completely and utterly recommend reading not just this book, but the whole series!! Fab, fab, fab, fab, fab' Stardust Book Reviews, five stars'There is a smile on my face and goosebumps on my arms.
Rarely have I been so satisfied with a novel . . . Breath-taking . . . A masterpiece, the star at the top of your Christmas tree . . . Get going with the series if you haven't already' Chocolate 'n' Waffles, five stars'Oh my life.
This is the book that all Kim Stone fans have been waiting for and they didn't even know it . . . Another class Kim Stone story . . . A dark and deadly case, high on thrills, intrigue, mystery and tension, perfectly pitched on pace and featuring the dry humour and banter we know and love . . . Top stuff - Loved it' Jen Med's Book Reviews, five stars
BIC: