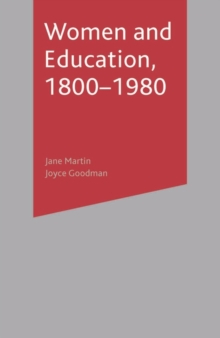 Women and education, 1800-1980
0333947223 / 9780333947227
advanced secondary Learn More
general
undergraduate
Jane Martin's publications include "Women and the Politics of Schooling in Victorian and Edwardian England". Joyce Goodman's publications include "Women, Educational Policy-Making and Administration in England: Authoritative Women since 1800" (edited with Sylvia Harrop).
Using a biographical approach, Jane Martin and Joyce Goodman explore and celebrate the aims, visions and actions of six little-recognized British women educational activists within 19th and 20th century history: Sarah Austin, Jane Chessar, Margaret Cole, Mary Dendy, Elizabeth Hamilton and Shena Simon.
As individuals, these women were very different personalities; as a group, they show how organized women made a contribution to changing philosophy, policy and practice in the field of education.
BIC:
1DBK United Kingdom, Great Britain, 3JH c 1800 to c 1900, 3JJ 20th century, HBTB Social & cultural history, JN Education