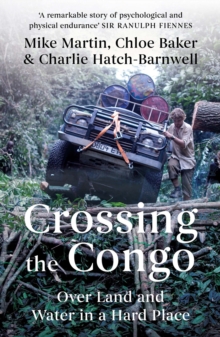 Crossing the Congo : over land and water in a hard place
1849046859 / 9781849046855
In 2013, three friends set off on a journey that they had been told was impossible: the north-south crossing of the Congo River Basin, from Kinshasa, in the Democratic Republic of Congo, to Juba, in South Sudan.Traversing two and a half thousand miles of the toughest terrain on the planet in a twenty-five year old Land Rover, they faced repeated challenges, from kleptocracy and fire ants to non-existent roads and intense suspicion from local people.
Through imagination and teamwork - including building rafts and bridges to cross rivers, conducting makeshift surgery in the jungle and playing tribal politics - they got through.
But the Congo is raw, and the journey took an unexpected psychological toll on them all.Crossing the Congo is a story of friendship, what it takes to complete a great journey against tremendous odds, and an intimate look into one of the world's least-developed and most fragile states.
BIC:
1HFJZ Democratic Republic of Congo (Zaire), WTL Travel writing