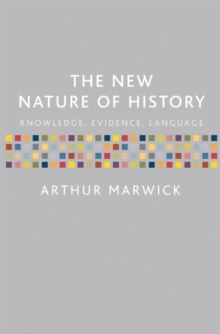 The new nature of history : knowledge, evidence, language
0333964470 / 9780333964477
Usually dispatched within 2 weeks
advanced secondary Learn More
further/higher education
undergraduate
Arthur Marwick is the author of "British Society since 1945", "The Sixties: Cultural Revolution in Britain, France, Italy and the United States, c.1958-c.1974", and "A History of the Modern British Isles, 1914-1999: Circunmstances, Events, Outcomes".
This title, first published in 1970, with revised editions in 1981, and again in 1989 has been totally rewritten.
Addressing the key questions of what history is, and why and how one studies it, this is a positive affirmation of the vital importance to society of the study of the past, and of the many crucial learning outcomes which accrue from historical study.
There is a great deal of new material, engaging with and rebutting postmodernist criticisms of the history of the historians, and explicating more fully the author's pioneering work on how exactly historians analyze and interpret primary sources, and how they write their articles and books.
BIC: