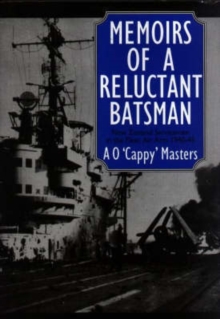 Memoirs of a Reluctant Batsman
1857561481 / 9781857561487
Usually dispatched within 2 weeks
This is a first-hand account of the involvement of New Zealand servicemen in the Fleet Air Arm during World War II.
It is written with particular reference to the "forgotton fleet", the British Pacific Fleet in the Indian Ocean. "Cappy" Masters describes his training, his involvement in many theatres of war and the friendships that were created during the war.
Narrated with humour, "Cappy" relates the exciting, amusing and even the boring times of an involvement with the Royal Navy, via the Fleet Air Arm, where the "Poms" and the "Kiwis" managed to get along pretty well and make an effective contribution to the war effort.
BIC:
3JJH c 1939 to c 1945 (including WW2), BGHA Autobiography: historical, political & military, HBG General & world history, HBWQ Second World War, JWG Air forces & warfare