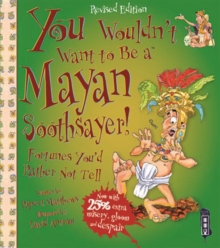 You wouldn't want to be a Mayan soothsayer! : fortunes you'd rather not tell (Revised edition)
1911242458 / 9781911242451
Stock expected by 27/05/2021
24 cm 36 pages : illustrations (colour), maps (colour)
Previous edition: published as Avoid being a Mayan soothsayer! 2007.
You are the son of a Mayan soothsayer, living near the city of Copan in about AD 710.
Becoming a soothsayer yourself means you could become an important man.
However, you'd rather stay in your peaceful village being a farmer - get something wrong as a soothsayer and you'll be sacrificed! "You Wouldn't Want To Be" is a constantly-growing library of exciting titles which transport the reader to the grisliest times and places in history.
The first-person narrative approach puts the reader in the shoes of some of the most unfortunate people ever to have lived.
Humorous cartoon-style illustrations bring the characters to life, while informative captions explain processes or chronological events.
BIC:
YNH History & the past: general interest (Children's / Teenage)