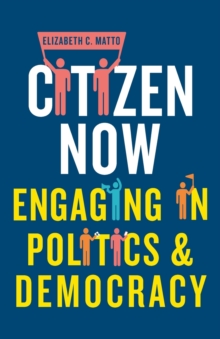 Citizen now : engaging in politics and democracy
1526105683 / 9781526105684
280 pages : illustrations (black and white)
Secondary Learn More
Tertiary Education (US: College)
Citizen now offers a comprehensive description of the composition and behavior of young adults, an explanation and critique of the study of youth engagement, and a unique approach and methodology for appreciating how and why "citizen now" engages in politics and democracy.
Citizen now considers youth political participation from the perspective of young adults themselves - specifically, young adults who've organized around an issue of great concern to Millennials, their economic well-being.
The perfect text for undergraduates exploring the fundamentals of government, political behavior, and citizenship, this text's fresh take on the important subject of youth engagement offers both a path for future research and practical guidance on how to engage "citizen now" in politics and democracy. -- .
BIC:
JPVH1 Civil rights & citizenship, YQN Educational: Citizenship & social education