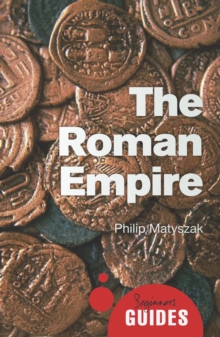 The Roman empire : a beginner's guide
1780744242 / 9781780744247
20 cm ix, 214 pages : illustrations (black and white), map (black and white)
No other political entity has shaped the modern world like the Roman Empire.
Encompassing close to a quarter of the world's population and 3 million km2 of land, it represented a diverse and dynamic collection of nations, states and tribes, all bound to Rome and the ideal of a Roman identity. In the lively and engaging style that he's known for, Philip Matyszak traces the history of the Roman Empire from the fall of the Assyrians and the rise of the Roman Republic through to the ages of expansion, crisis and eventual split.
Breathing new life into these extraordinary events, Matyszak explains how the empire operated, deploying its incredibly military machine to conquer vast territory then naturalizing its subject peoples as citizens of Rome.
It was a method of rule so sophisticated that loyalty to Rome remained strong even afters its collapse creating an expansive legacy that continues to this day.
BIC:
1QDAR Ancient Rome, 3D BCE to c 500 CE, HBJD European history, HBLA Ancient history: to c 500 CE