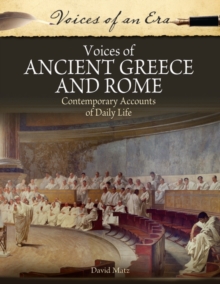 Voices of Ancient Greece and Rome : Contemporary Accounts of Daily Life
0313387389 / 9780313387388
Usually dispatched within 4 weeks
268 pages, 5 Illustrations, unspecified
Professional & Vocational Learn More
Tertiary Education (US: College)
Collecting documents culled from the writings of ancient Greek and Roman authors, this book provides a glimpse of what life was like in ancient times and illustrates the relevance of these long-ago civilizations to modern life. Voices of Ancient Greece and Rome: Contemporary Accounts of Daily Life sheds light on various aspects of Greek and Roman daily life by examining excerpts from the works of ancient authors who wrote about these topics.
Written to help readers truly understand what life within an ancient civilization was like, each entry is preceded by background information and followed by thought-provoking questions. This book covers fascinating topics such as domestic life, employment, housing, food and clothing, sports and games, public safety, education, health care, politics, and religion.
Each chapter contains several relevant documents excerpted from the writings of ancient authors accompanied by background information, reading and thought questions, bibliographical data, and suggestions for further reading.
An introductory essay to the volume, a guide for evaluating original sources, and bio-notes on the ancient authors are also included. As with other volumes in the Greenwood Voices of an Era series, this book contains much more than just a series of documents: it provides the information and tools that will promote critical thinking and support the research process. * Over 40 documents, excerpted from the writings of ancient Greek and Roman authors, such as Plutarch's description of the banishment from Athens of a just man* A timeline of the ancient Greco-Roman world provides a chronology of important events * A glossary containing descriptions/definitions of many Greek and Roman words and terms, such as "strategos"
BIC:
1QDAG Ancient Greece, 1QDAR Ancient Rome, HBLA1 Classical history / classical civilisation, HBTB Social & cultural history