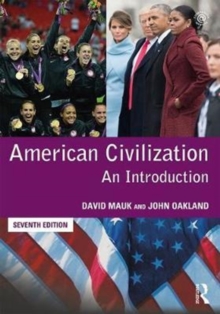 American civilization : an introduction (Seventh edition)
1138631728 / 9781138631724
420 pages : illustrations (black and white, and colour)
Postgraduate, Research & Scholarly Learn More
Undergraduate
The hugely successful American Civilization provides students of American Studies with the perfect background and introductory information on contemporary American life, examining the central dimensions of American society from geography and the environment, government and politics, to religion, education, sports, media and the arts.
Fully updated throughout, the seventh edition:covers recent events including the 2016 US election and 2017 presidential inaugurationcontains new commentary on key themes such as terrorist incidents and their effects on the national mood regarding immigration, rapidly changing energy politics, police racial profiling and the Black Lives Matter movement, and progress in legislation protecting the rights of the LGBT communitycovers all core American Studies topics at introductory level and contains essential historical background for American Studies students in the twenty-first century analyzes issues of gender, class, race, and minorities in America's cosmopolitan populationis accompanied by a fully updated and integrated companion website (www.routledge.com/cw/mauk) featuring an interactive timeline, quiz questions, extensive references for further reading, links to key primary sources and advice for students on how to approach essay questions.
Containing questions and terms for discussion, bibliographical references and websites at the end of each chapter and a new selection of color illustrations and case studies, this textbook is an essential resource for all students of American civilization, culture and society.
BIC:
1K The Americas, HBJK History of the Americas, HBLL Modern history to 20th century: c 1700 to c 1900, HBLW 20th century history: c 1900 to c 2000