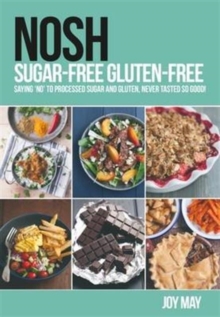 NOSH Sugar-Free Gluten-Free : Saying 'No' to Processed Sugar and Gluten, Never Tasted So Good!
Part of the NOSH series
0993260918 / 9780993260919
147 x 210 mm, 450 grams 224 pages, Photo with every recipe
Take the next step in a healthy GF diet. Say 'no' to processed sugar. Say 'yes' to great-tasting, fresh recipes. Go sugar-free & gluten-free and discover energy you never thought you had.
Joy shows how eating gluten-free and sugar-free can be an everyday reality for busy people who want to feel great and enjoy food packed with flavour.
Food doesn't have to be bland without sugar; nature has provided plenty of healthy sweetness for you to enjoy.
An addition to the gluten-free series of cookbooks from the NOSH Books team. 'NOSH Gluten-Free Sugar-Free' deals with the issue of processed sugar in our diets.
Joy tackles the sugar-free world with the same simple approach used in previous books.
Back to basics and using natural ingredients is the way Joy approaches the subject, whilst still maintaining the no fuss techniques of cooking that people have come to expect from NOSH books.
BIC:
WBF Quick & easy cooking, WBHS Cookery for specific diets & conditions, WBT Cookery by ingredient