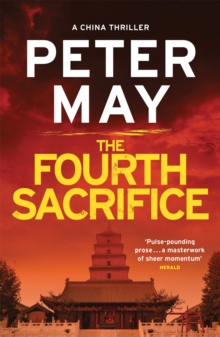 The fourth sacrifice
1784292699 / 9781784292690
Reprint. Originally published: London: Hodder & Stoughton, 2000.
PETER MAY: OVER 3 MILLION COPIES SOLD'A TERRIFIC WRITER' MARK BILLINGHAM'WONDERFULLY COMPELLING' KATE MOSSEIn the second novel in the China series, Li Yan and Margaret Campbell are reluctantly reunited, on the trail of a killer reenacting a series of gruesome ritualsTHE SECOND OPINIONThe Chinese police have once more been forced to enlist the services of American forensic pathologist Margaret Campbell: this time to investigate a series of four horrific ritual executions that have taken place in Beijing. THE THIRD DEGREEDetective Li Yan is determined to discover just how one of the victims in particular, an American diplomat, became caught up in the slaying. And he is arguably even more determined to have nothing to do with Campbell. THE FOURTH SACRIFICEThe polarity that once attracted Yan and Campbell eventually pulls them back into partnership.
Yet the closer they are drawn to the truth, the nearer they come to a killer prepared to use extreme force to conceal it. LOVED THE FOURTH SACRIFICE? Read the third book in the series, THE KILLING ROOM. LOVE PETER MAY? Buy his new thriller, A SILENT DEATH.
BIC: