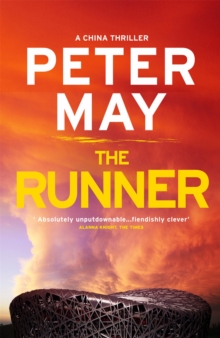 The runner
1782062343 / 9781782062349
Reprint. Originally published: London: Coronet, 2003.
THE #1 SUNDAY TIMES BESTSELLING AUTHOROVER 3 MILLION COPIES SOLD WORLDWIDE'A TREMENDOUS COLLISION OF CULTURES' HERALDThe fifth China thriller sees Li Yan and Margaret Campbell uncover an insidious conspiracy on the eve of the Beijing OlympicsTHE SUFFERERA prodigious Chinese swimmer kills himself on the eve of the Beijing Olympics.
Days later, a champion weightlifter suffers a fatal heart attack prior to competition. THE LISTENERDetective Li Yan senses a conspiracy surrounding the fatalities, and finds a female athlete willing to talk.
But she will only trust one person: Li's fiancee, Margaret Campbell. THE RUNNERWhen Campbell's contact herself vanishes, the gun is fired on a race against time. And Li must now outrun, and outwit, an enemy bent on pushing him beyond endurance. LOVED THE RUNNER? Read the final book in the China series, CHINESE WHISPERSLOVE PETER MAY? Order his new thriller, A SILENT DEATH
BIC: