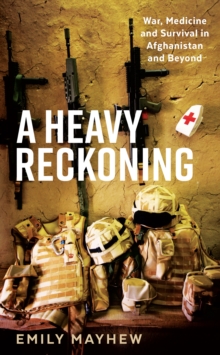 A heavy reckoning : war, medicine and survival in Afghanistan and beyond
Part of the Wellcome series
1781255857 / 9781781255858
23 cm 311 pages, 8 unnumbered pages of plates : illustrations (colour)
Professional & Vocational Learn More
Tertiary Education (US: College)
What happens when you reach the threshold of life and death - and come back? As long as humans have lived together on the planet, there have been wars, and injured soldiers and civilians.
But today, as we engage in wars across the globe with increasingly sophisticated technology, we are able to bring people back from ever closer encounters with death.
But how do we do it, and what happens next?Here, historian Emily Mayhew explores the modern reality of medicine and injury in wartime, from the trenches of World War One to the dusty plains of Afghanistan and the rehabilitation wards of Headley Court in Surrey.
Mixing vivid and compelling stories of unexpected survival with astonishing insights into the frontline of medicine, A Heavy Reckoning is a book about how far we have come in saving, healing and restoring the human body.
But what are the costs involved in this hardest of journeys back from the brink?
From the plastic surgeon battling to restore function to a blasted hand to the double amputee learning to walk again on prosthetic legs, Mayhew gives us a new understanding of the limits of human life and the extraordinary costs paid both physically and mentally by casualties all over the world in the twenty-first century.
BIC:
1FCA Afghanistan, HBWS Military history: post WW2 conflicts, MBX History of medicine
The title has been replaced.To check if this specific edition is still available please contact Customer Care +44(0)1482 384660 or schools.services@brownsbfs.co.uk, otherwise please click 9781781255865 to take you to the new version.
Title Unavailable: Out of Print