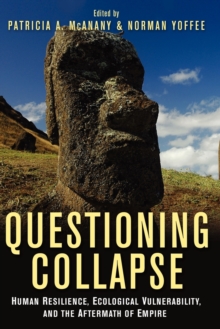 Questioning collapse : human resilience, ecological vulnerability & the aftermath of empire
0521733669 / 9780521733663
Professional & Vocational Learn More
Tertiary Education (US: College)
Questioning Collapse challenges those scholars and popular writers who advance the thesis that societies - past and present - collapse because of behavior that destroyed their environments or because of overpopulation.
In a series of highly accessible and closely argued essays, a team of internationally recognized scholars bring history and context to bear in their radically different analyses of iconic events, such as the deforestation of Easter Island, the cessation of the Norse colony in Greenland, the faltering of nineteenth-century China, the migration of ancestral peoples away from Chaco Canyon in the American southwest, the crisis and resilience of Lowland Maya kingship, and other societies that purportedly 'collapsed'.
Collectively, these essays demonstrate that resilience in the face of societal crises, rather than collapse, is the leitmotif of the human story from the earliest civilizations to the present.
Scrutinizing the notion that Euro-American colonial triumphs were an accident of geography, Questioning Collapse also critically examines the complex historical relationship between race and political labels of societal 'success' and 'failure'.
BIC: