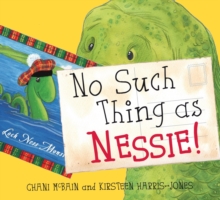 No such thing as Nessie
0863159532 / 9780863159534
23 x 27 cm 30 unnumbered pages : chiefly illustrations (colour)
Finlay is going on a Nessie hunt. While visiting his Gran, who lives beside Loch Ness, Finlay is determined to get proof that Nessie, the famous Loch Ness Monster, really does exist.
Finlay's Gran might believe him but his big sister Sarah keeps telling him there's no such thing.
Until they spot a monster-ish shape under the water ... There's no such thing as Nessie: is there?Travel to the shores of Loch Ness with Kirsteen Harris-Jones's bright, playful illustrations of the Scottish landscape accompanied by Chani McBain's fun monster-hunting story.
BIC: