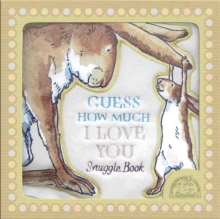 Guess how much I love you (New ed)
140632129X / 9781406321296
19 cm 8 p. : chiefly col. ill.
Guess How Much I Love You has sold over 50 million copies worldwide!The Guess How Much I Love You Snuggle Book - there's no better way to go to bed!This deliciously soft bedtime snuggle book has been created from the picture book favourite, Guess How Much I Love You.
The story of Big Nutbrown Hare and Little Nutbrown Hare trying to outdo each other in expressing their love, has been simplified from the original so it's perfect for the very youngest child.
Just right for cuddling up with, there's no need to say goodbye to the beloved Nutbrown Hares even when it's time to go to sleep!
Presented in a beautiful box, it's the perfect gift.
For activities, games, newsletters and more, visit www.guesshowmuchiloveyou.com
BIC: