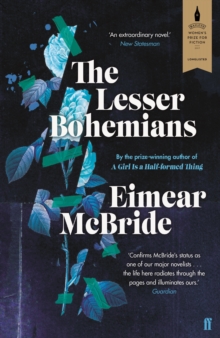 The lesser bohemians
0571327885 / 9780571327881
Reprint. Originally published: 2016.
WINNER OF THE JAMES TAIT BLACK MEMORIAL PRIZE 2017SHORTLISTED FOR THE GOLDSMITHS PRIZE 2016SHORTLISTED FOR THE BORD GAIS IRISH NOVEL OF THE YEAR 2016SHORTLISTED FOR THE RSL ENCORE AWARD 2017SHORTLISTED FOR THE INTERNATIONAL DUBLIN LITERARY AWARD 2018LONGLISTED FOR THE BAILEY'S WOMEN'S PRIZE FOR FICTION 2017LONGLISTED FOR THE INTERNATIONAL DUBLIN LITERARY AWARD The vibrant energy of 1990s London.
A year of passion and discovery. The anxiety and intensity of new love. An eighteen-year-old Irish girl arrives in London to study drama and falls violently in love with an older actor.
While she is naive and thrilled by life in the big city, he is haunted by demons, and the clamorous relationship that ensues risks undoing them both.
At once epic and exquisitely intimate, The Lesser Bohemians is a celebration of the dark and the light in love.
BIC: