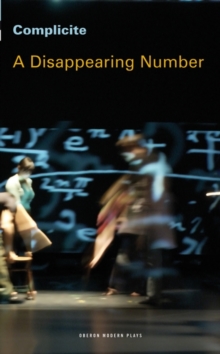 1840028300 / 9781840028300
Stock expected by 26/04/2021
A Disappearing Number takes as its starting point the story of one of the most mysterious and romantic mathematical collaborations of all time.
Simultaneously a narrative and an enquiry, the production crosses three continents and several histories, to weave a provocative theatrical pattern about our relentless compulsion to understand. A man mourns the loss of his lover, a mathematician mourns her own fate.
A businessman travels from Los Angeles to Chennai pursuing the future; a physicist in CERN looks for it too.
The mathematician G.H. Hardy seeks to comprehend the ideas of the genius Srinivasa Ramanujan in the chilly English surroundings of Cambridge during the First World War.
Ramanujan looks to create some of the most complex mathematical patterns of all time. Threaded through this pattern of stories and ideas are questions.
About mathematics and beauty; imagination and the nature of infinity; about what is continuous and what is permanent; how we are attached to the past and how we affect the future; how we create and how we love. The book features an essay by Marcus du Sautoy, Professor of Mathematics at Wadham College, Oxford, and an introduction by Simon McBurney.
The Complicite production was an astonishing success during its run at the Barbican, London in Spring 2007, winning The Evening Standard's Best New Play Award 2007.
Called ' Mesmerizing' by the New York Times, 'A Disappearing Number' is a brilliant play, aided with original music composed by the award winning DJ, producer and writer Nitin Sawhney. 'A Disappearing Number' was revived at the Novello Theatre, London in autumn 2010.
BIC: