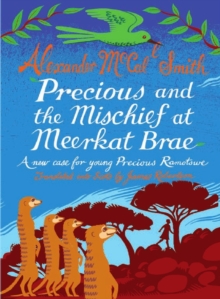 Precious and the mischief at Meerkat Brae
1845025466 / 9781845025465
19 cm 96 pages : illustrations (black and white)
Itchy Coo and Black & White Publishing are delighted to present a new case for the young Precious Ramotswe, translated into Scots for the very first time.
Well before Precious Ramotswe founded her Number One Ladies Detective Agency, as an eight-year-old girl she was already solving mysteries.
Here, in this delightful, new, enchanting tale for children, we see how the young Precious became the crafty and intuitive private investigator we know and love.
In "The Mischief at Meerkat Brae", Precious befriends a new boy to her school called Pontsho and his sister Teb, and when she goes to their home for the first time, she discovers that they have an unusual pet, a very clever meerkat called Kosi.
Then, when Pontsho and Teb become very upset when their cow goes missing, Precious decides to use her detective skills to solve the mystery but soon finds that all is not quite as simple as it seems on Meerkat Brae...
BIC:
5AK Interest age: from c 9 years, YFCF Crime & mystery fiction (Children's / Teenage)