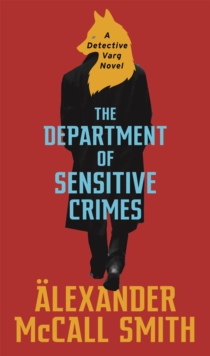 The Department of Sensitive Crimes
0349143331 / 9780349143330
Reprint. Originally published: London: Little, Brown, 2019.
The first book in Alexander McCall Smith's new Detective Varg series . . . The Girl with the Dragon Tattoo introduced us to Scandi noir.
Now, welcome to Alexander McCall Smith's world of Scandi blanc, where mysteries abound and there is still so much for a Swedish detective to learn. Ulf Varg works in Malmoe's Department of Sensitive Crimes.
Like all Scandinavian detectives, he has his issues.
In this case, these include his unresolved feelings for his colleague Anna, his impatience over the seeming incompetence of his irritating colleague Blomquist and his concerns for the health of his hearing-impaired dog Martin, the only dog in Sweden (and possibly all Scandinavia) who can lip-read. Soon, Ulf and his colleagues find themselves investigating an attack on a market trader, the disappearance of a handsome man who may not exist and a group of students whose relationships leave a great deal to be desired . . . 'Wonderfully soothing and relaxing' Telegraph
BIC: